Vern's 1954 Train Ride from Chicago to Norfolk
I was transported from Chicago to Norfolk on the last streamlined steam train ever built.
The Norfolk and Western train was called the "Pocahontas" using a Class J locomotive
streamlined 4-8-4 built in 1950. The photo below could very well be that train
as we traveled along the Ohio River East of Cinncinnati in the spring of 1954.
This was my first trip away from the mid-west or trip as a U.S. Sailor.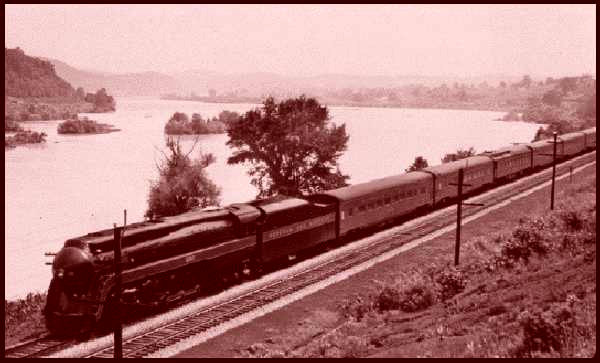 After being transport from the Great Lakes Naval Training Center to Chicago, I boarded the
train at the La Salle Street Station. Traveling South into Indiana then into Ohio where it
became late in the evening near Cinncinnati. We crossed the Ohio River near Ironton, OH
Late in the night our car was switched to another train,
at a station much like the one pictured below.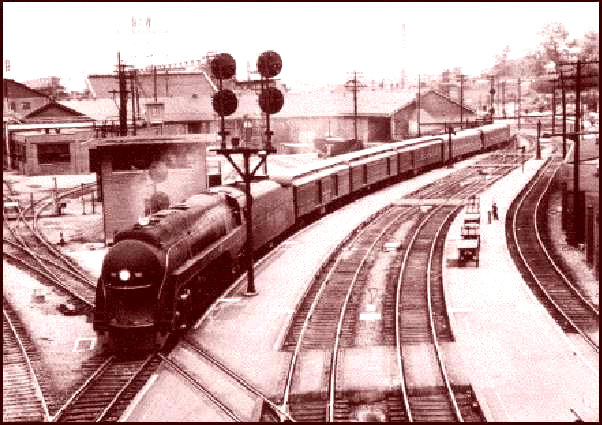 At day break we were traveling very slow through the West Virginia hills. This was my first look at how many of the people lived back in the hills. It was very late this day when I arrived in Norfolk.
The above photos were found at: University Libraries

Other Web Sites showing this locomotive are:
It Couldn't Save The Steam Engines
Railroad History/Virginia Museum of Transportation
Last Run Photos with SOUNDS

Back to:Vern's Trains