WHITE KNIGHT carries SpaceShipOne
Over California Windmill Farm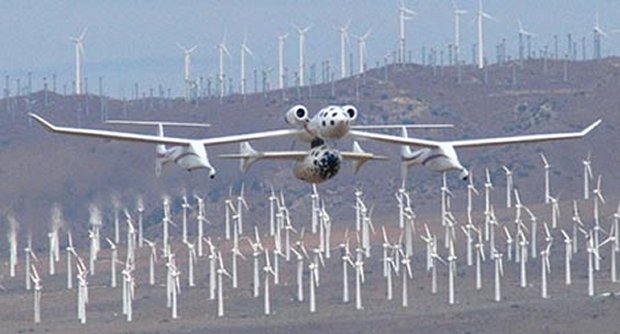 HISTORIC SPACE LAUNCH ATTEMPT SCHEDULED FOR JUNE 21

Press Page

SpaceShipOne is chasing the

X-prize - a $10m bounty intended to "jumpstart the space tourism industry through competition between the most talented entrepreneurs and rocket experts in the world".

.................................................................

White Knight carries SpaceShipOne to altitude, followed by a Rutan-designed Beech Starship.




SpaceShipOne was designed by Rutan and his research team at the California-based aerospace company, Scaled Composites. Rutan made aviation news in 1986 by developing the Voyager, the only aircraft to fly non-stop around the world without refueling.

The test flight in which pilot Mike Melvill reached a height of 211,400 feet (approximately 40 miles), the highest altitude ever reached by a non- government aerospace program.








Go to PLANEs Page