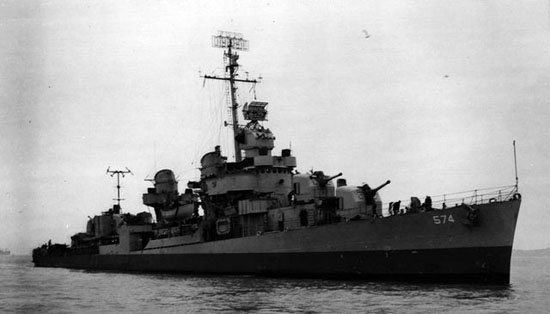 Earlier this week (July, 2006) Ward Brewer of Beauchamp Tower Corporation and The Mexican Navy signed the official Document of Transfer Agreement for the transfer of the USS John Rodgers(aka E-01 CUITLAHUAC).
As Ward stated "It should be noted that this is the first time in history that the Mexican Government has donated a ship to a United States organization for a museum and the Mexican Navy takes this donation very seriously--as do we."
And so Ward's transcendence to the top of the Gun Blogging world begins. Sure there are folks with "Commie Cannons" and other large guns, but does anybody have a destoyer? I think not.

With USS John Rodgers is secure, it's time to hammer MARAD for trying to scrap the USS Howard Gilmore before it can be utilized to aid in hurricane relief.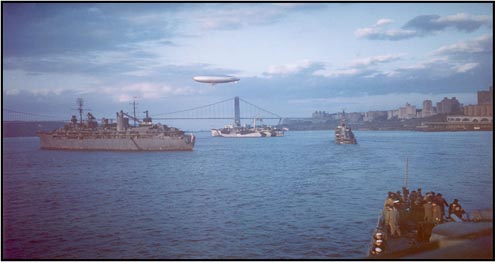 USS Orion (AS-18) left. USS Howard W. Gilmore (AS-16) in dazzle paint on Navy Day Celebration, Hudson River, October 27, 1945.

Our first post about Operation Enduring Service was almost a month ago and the calls you've made have helped. Things are progressing. However someone is standing in the way:
...yesterday I received an overnight letter informing me that we had until January 6, 2006 to tow the USS Howard W. Gilmore out of the fleet or they were going to scrap her. That is two months ahead of our donation hold schedule and only gives us two weeks to move her due to the Christmas holidays. MARAD knows that this is impossible and only offers this time because they know it can't be done--you can't get a tow company that fast during the holidays. This way, they can look like they are "trying to work with us" and still make sure we can't perform.
Individuals at the Maritime Administration (MARAD) are intentionally speeding up the process of trying to scrap a ship earmarked to be donated to a disaster recovery mission that has the stated goal of saving American lives.
Call your Senators and Congress people today.
Be sure to tell your elected representatives. that the men responsible for this travesty at MARAD are William H. Kahill, Deputy Director, Office of Ship Operations (202-366-1875 ext. 2122), and Eugene Magee, Division of Reserve Fleet Chief (202-366-5752 ext. 2112).

-----------------------------------------------------------------

OES On the Air
Our friend Ward Brewer, CEO of Beauchamp Tower Corporation, was on Raleigh, NC's News-Talk 680 WPTF this morning, talking about Operation Enduring Service, a bid to build a small fleet of disaster response cargo ships from obsolete ships no longer needed by the United States Navy.
See previous posts here talking about the former USS Orion and USS Howard W. Gilmore and here starring the former USS San Diego.
Of course, I wasn't able to listen to the show, so if anyone in the Raleigh area heard it, please let me know how you think it went.
You've almost certainly heard a lot about the blog initiative Porkbusters sponsored by N.Z.Bear at The Truth Laid Bear and Glenn Reynolds of Instapundit. I haven't said much about it, not because I don't support it (I'm very much behind it), but because so many others have done a much better job saying what needs to be said (As a side note, that is why you don't see me offering a lot of commentary on SCOTUS nominations).

The driving idea behind Porkbusters was to cut wasteful government spending, called "pork," to help pay for the massive clean-up and recovery costs associated with the catastrophic damage caused by Hurricane Katrina (and later, Hurricane Rita).

While independent of the Porkbusters, Operation Enduring Service is the near-perfect execution of the Porkbusters project. Operation Enduring Service will save American taxpayers $100 million dollars spent to scrap retired American naval ships, overseas. It will efficiently use the salvage and sale of certain ships to pay for the scrapping of less desirable vessels, and will actually generate enough profits to help pay to upgrade and refit several ships to be used in future disaster relief efforts.
The project will even help teh economies of storm-tossed Gulf states by creating between 1,500-3,000 shipbuilding-related jobs.
Operation Enduring Service will save $100 million in wasteful government spending, creates thousands of jobs in the Gulf States devastated by hurricanes this past year, and will build a fleet of disaster response vessels that will greatly enhance our nation's ability to respond to future disasters, at no cost to the taxpayer.
We are literally talking about a privately-funded and self-supporting "Salvation Navy" that will greatly assist FEMA and become the most technologically advanced ships available for use by the United States Coast Guard.
The USS San Diego is but one U.S Navy veteran that looks to return to service as one of the nation's first Fast Response Emergency Cargo Vessel/Rescue Ships.
Corporate donors will pick up other costs of preparing these ships for service, and the United States Coast Guard Auxiliary will crew these vessels, but we have to get them first, and time is running very, very short.
The legislation required to make this happen is dangerously close to falling by the wayside. It has to pass before Congress ends this Session, in approximately one week, or the corporate sponsors will be forced to pull out.
BTC has obtained the support of a number of Congressmen and Senators. Each of the senators has the ability to submit this legislation for Operation Enduring Service and should be contacted via phone, fax or electronically and encouraged to submit this legislation immediately.
Senator Cochran
, (R-MS) (Chairman of Appropriations)
Phone: (202) 224-5054
Internet Contact Form
Senator DeWine, (R-OH)
Phone: (202) 224-2315
Fax: (202) 224-6519
Becky Watts has the legislation for his office
Internet Contact Form
Senator Shelby, (R-AL)
Phone: (202) 224-5744
Fax: (202) 224-3416
Ryan Welch has the legislation for his office
senator@shelby.senate.gov
Senator Sessions, (R-AL)
Phone: 202) 224-4124
Fax: (202) 224-3149
Stephen Boyd has the legislation for his office
Internet Contact Form

Without this legislation the Corporate Donors will withdraw, the ships will no longer be available and the emergency relief program will collapse.
This is not a partisan exercise; each and every one of us has been directly affected by the recent hurricanes and will be affected again.
This requires immediate action, of the project will collapse. Contact with your House Representative and Senators, let them know the senators above have the legislation to make this happen and to support it or to submit it themselves.
Questions and comments can be directed to:
Email: info -at - btcorp.us
Website: http://www.btcorp.us/
Weblog: www.btcorp.us/mt
Thank you.

Posted by Confederate Yankee at
01:20 PM
on November 15, 2005 |
Comments (0)
|
TrackBack
Help These Veterans Return to Service
The USS San Diego is but one U.S Navy veteran that looks to return to service as one of the nation's first Fast Response Emergency Cargo Vessel/Rescue Ships.
Beauchamp Tower Corporation has created Operation Enduring Service which will rebuild and refit obsolete military ships to provide state-of-the-art emergency relief and disaster response at no cost to the taxpayers and a savings to the government of at least $100 million.
In addition, the rebuild/refit of these ships will result in the creation of approximately 3,000 jobs in the areas hit by Hurricanes Katrina and Rita, while increasing the operational capability of the United States Coast Guard.

A number of organizations and corporations are working closely with Beauchamp Tower Corporation to make this happen, including:

United States Coast Guard Auxiliary
Dell Computers

Microsoft Corporation
Sherwin Williams
Bender Shipyard
Alabama Shipyard
IPSCO Steel
Erikson Aircrane Heavy Lift Helicopters
AEPCO Shipyard
ERM North America
KME Fire Apparatus
Directly from the O.E.S. Project Weblog:
We are preparing to receive at least two ships (if everything goes as planned) to begin the conversion to Fast Attack Emergency Cargo Ships to respond to disaster incidences in Coastal States (East Coast, Gulf Coast, and in some instances West Coast). It is estimated that we can removed about 27% of the federal burden for Ice, Water, and food within the first 10 hours following a CAT-4 landfall. There is also the ability of providing climate controlled medical and staging facilities for up to 40 percent of the same disaster area.
So, you want to see what these old girls will be able to do? Here's a list of only a few things we can provide during a Coastal State disaster (such as flooding or a hurricane)
----Service a disaster area of up to 10,000 square miles (up to 100 miles inland) with minimal (if any) outside support
----Provide complete berthing facilities for up to 400 emergency responders "on scene" at a disaster site
----Fully integrated communications system serving all local, state, and federal agencies, as well as cell phone coverage and military band frequencies--allowing for seamless communications between all disaster scene personnel, no matter what radio frequency or cell phone is being used.
----Daily provide 110 tons of bagged and palletized ice to the disaster region
----Daily generate, bottle, and palletize up to 50,000 gallons of fresh water
----Provide refueling station and loading platform for helicopters operating in the disaster area
----Carry over 7,000 tons of food and supplies for a disaster area
----Store (and provide delivery of) 700,000 gallons of diesel, gasoline, and aviation fuel for use in the disaster area on emergency vehicles and critical needs generators (hospitals, emergency operation centers, etc)
.......and that's just one ship.
It's time to realize that the government can't do it all during a disaster--we've got to roll up our sleeves and get to work to make sure the needs get met--one way or another.
Best part? The first two ships can be ready before next hurricane season--if things go as planned and all of you help us as we've asked.