VERN'S INTERESTS

SHIPS - PLANES - MOVIES - TRAINS - CARS
or
..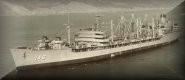 <>Most of the photos you view here are of items Vern has actually seen or worked on.
A few he wished he had seen.

After joining Wikipedia I have found more interesting items
This photo will lead to most of the famous people known - click it.

"The Divine Comedy with Dante"


Clicking on each individual (see 2 examples) displays the name and links to information about the person. (Some links are bad)

Discussing the Divine Comedy with Dante is a painting by Dai Dudu, Li Tiezi, and Zhang An
depicting 103 cultural icons. It was released without credits on the internet in 2006
as a kind of literary mystificationinternet phenomenon in early 2009. and became an internet phenomenon in early 2009.
See: http://www.artandpopularculture.com/Discussing_the_Divine_Comedy_with_Dante

Revised April 28, 2009